Blends of Goodness is exactly what the name says!
At Blends of Goodness we use only the freshest & premium ingredients we can find to create nutritional, delicious spice blends, dry rubs and more!
We are so confident that you, your family and friends will fall in love with our collection of spice blends that we recommend you pat down your family and friends when they leave your house after a meal as it's likely they will be trying to get away with your Blends of Goodness spices!   P.S. Our spices make great gifts for all your foodie friends so they can build their own collection of  our premium spice blends!
At Blends of Goodness we are foodies and we love to cook!  We also love to create ways to enhance the natural flavor of your foods.  We get excited about every new blend and product we create.
Our artisan blends are hand blended in small batches and may differ slightly  in appearance from each other but not in taste.
BBQ & cooking enthusiasts love our blends!
Our blends are all natural ingredients with:
No MSG
No Preservatives, Fillers, Artificial Colors or Additives
Gluten-Free
Keto friendly
Vegan Friendly
No High Fructose Corn Sweetener
No Anti-Caking Agents
Nothing but good stuff in our blends!
Food Safety and Packaging
To us food safety is a priority and we take all measures possible to ensure you receive a fresh top quality safe product. 
Some of our policies include:
We follow all food safe policies.
Ensure a clean environment in an approved commercial kitchen to ensure safe and clean handling and packaging of our products.
Products are heat sealed for immediate freshness.
Product inventory is rotated in order to ensure the freshest product is delivered to you.
Our packaging comes with a resealable flavor lock and no see through window to ensure freshness and longevity of our products, as the ingredients are never exposed to daylight.
Our pouches are 100% recyclable!
Business License.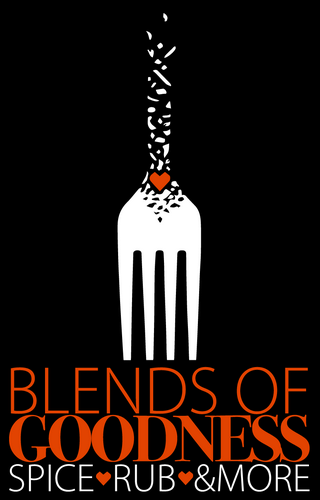 Our Logo
The logo symbolizes that everything Blends of Goodness does is related to spices.
"Spices are related to food & eating. A definitive tool for eating is the fork. No pun intended but, let's blend those ideas together!"
"The spices, while descending towards the food, transform completely into a fork.  The two are now one. Loving preparation & the experience of tasting those wonderful spices blended into one symbol."
"The heart at the center of  the fork identifies the 'love' Blends of Goodness has for cooking and the joyful experience of preparing food for friends & family.  We aim to put this sense into every blend we create for our customers kitchens."
"Everything in the Blends of Goodness logo relates to spices, preparing and  great tasting food.  The same goals as all things at Blends of Goodness!"